Ceuta and Melilla, 8 months later...
17.May.06 - 8 months after the images of Hundreds of people literally running over the fences in Ceuta and Melilla, making their way into the political Europe in a collective action, that flickered all over European TV-Stations in the days after the 28th of September 2005, kein.org has published extensive interviews with two protagonists of these events. the first interview, titled 'We are all a collective combination something ...', features M.K, who succeed in the collective storm in Ceuta and today lives in Madrid.
the second interview is with Paola Domingo who lives in Ceuta for six years and is now a nun of the religious order 'Carmelito Verdona'.
We are all a collective combination something ...
M.K. fled from the civil war in Sierra Leone in 2003 seeking a better life in Europe. Through Guinea-Conakry, Mauritania and Western Sahara he tried to enter Las Palmas, but was caught by Moroccan police and deported to Oujda on the Moroccan-Algerian border. With some comrades he decided to give at another try via Sebta/ Ceuta. After 25 days of walking through Morocco they reached Castillago, a small Moroccian town at the border to Ceuta, in June 2005. After spending three months in the woods at the border, he decided to take part in a collective action of climbing over the bordering barbwire and make their was into Ceuta. In this collective action of September 28th 2005, 220 migrants crossed the border in one night, with 5 of them being shot during the action, 200 of them being wounded, 30 of them heavily. kein.org has just published an excerpt of an impressive interview with M.K, which was made in Dezember 2005 in Ceuta, at a time when he had recovered from his wounds. Today M.K. is living in Madrid.
Carmelito Verdona - Humanitarian work in Ceuta
Paola Domingo lives in Ceuta for six years and is now a nun of the religious order "Carmelito Verdona". This interview took place in November 2005 in Ceuta, shortly after the organized crossing of the border-fence in Melilla and Ceuta by refugees coming from the Subsahara took place. In the following interview she will talk about her work in Ceuta, the immigration politics by the Spanish government and the European Union. She will also talk about the population in Ceuta, the economical situation as well as border commerce and the situation of immigrants. Read the Interview here.
Pictures om Ceuta
Ceuta is a Spanish enclave in North Africa, located on a northern tip of the Maghreb, on the Mediterranean coast near the Strait of Gibraltar. It is known in Arabic as Sabtah in Standard Arabic, Sebta in Morocco. Its area is approximately 28 km2. Ceuta has 76,000 inhabitants that are enclosed by a 6.8 km fence that separates it from moroccan territory. pictues from an april 2006 visit to Ceuta are available in two flicker sets: the first one focusses on how migrants live in the old train station of Ceuta while the second one shows the border that surrounds Ceuta (all photos by moritz siebert).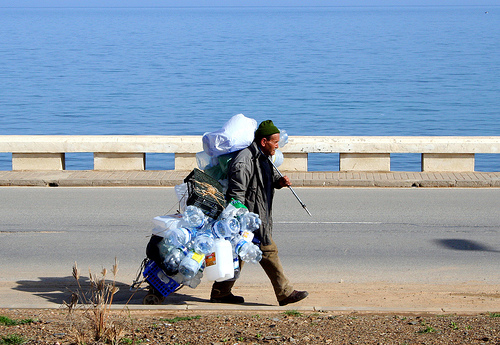 more information: kein.org website