actionday reports from Germany
08.Apr.05 - München:
The action in Munich took place on April, 1st. More than 100 refugees and other activists performed a "protest cooking" in front of the "Government of Upper Bavaria". This is the authority running the refugee camps. The refugees expressed their rage and weariness of the very bad living conditions in these camps, the isolation and and the total lack of self-determination with a stage play (protest cooking), many banners and leaflets and an open micro.
Frankfurt:
Spontanous Demonstration inside Frankfurt Airport-Terminal Around 50 people participated in a "spontanous demonstration" for freedom of movement inside the terminal of frankfurt airport on 2nd of april. Police and securities have been surprised and could not stop a noisy protest-march with speeches and banners through the airport-building. This action was not announced anywhere before, because the airport-company and police try to prevent any kind of announced demonstration inside the airport-terminals (in the past with hundreds of police-men to block and control all entrances!).
Frankfurt-airport is the most important deportation airport in Germany. More than 10.000 deportations yearly (more than 30 every day!) are organised by border police on this airport. And on the area is (since 1993) a closed internment-camp (Internierungslager) for refugees and migrants, who arrived here in Frankfurt without valid papers and who are suspected to have no "founded" asylum reasons. The arrested people should be deported back after a quick asylum-procedure, never having the chance to leave this airport-area.
Since 12 years some initiatives are active to fight against deportations and internment-lager at this airport, with a peak in 2001, when we organised a big nobordercamp near frankfurt with more than 1000 participants and with a final demonstration of 3000 people. Beside many demonstrations and symbolic actions in the last years we are many times present at the airport (sometimes with only a few people) to try to prevent particular deportations of singular migrants.
A few weeks ago we could succeed to stop the deportation of an iranian woman in the last minute. The pilot refused to transport the woman after a lot of protests, from outside but also from inside the airport. 150 people joined the spontanous protest in the airport, but 60 persons have been arrested later on by police for a whole night because of "a not allowed protest in a private space".
So the 2nd of april "spontanous demonstration" referred to these situations and experiences, and for sure we will continue with our protests - particularly inside the airport-terminal - as long as deportations and internment take place from here.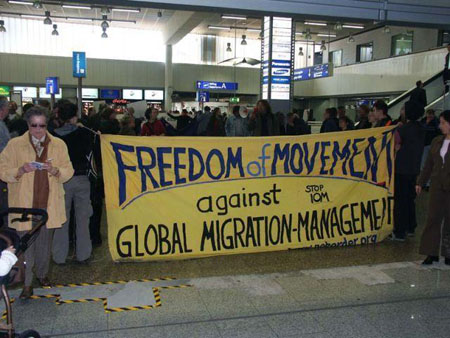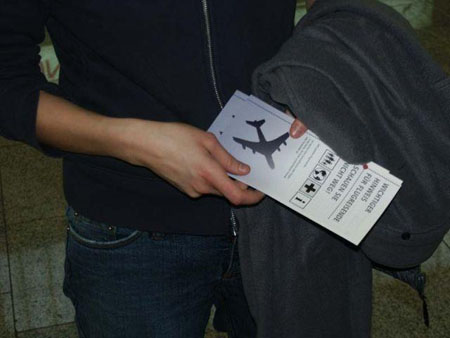 On Friday the 1st of April, three persons have been arrested for some hours after a police control in Frankfurt-Oberursel. They were suspected to be involved in an action at the same morning, when a lot of "red colour-bombs" have been thrown from a bigger group of activists to the head-quarter-building of Aero-Flight. Aero-Flight is an airline-company, which obviously is involved in charter-deportations, but see also the following background informations.
Aero-Flight collaborates in Charter-Deportations! On September, 19th 2004 the Foreign Office Hamburg had organised an "international charterflight to Africa" in cooperation with the german federal border-police. 17 people have been deported in a plane of the airline-company Aero-Flight, and the authorities called their action later on "as an example for the future to combat criminality and illegal immigration". This action remained secret until the last moment and mainly refugees and migrants have been affected, who could succeed to prevent their deportations on regular flights before. Now they have been forced by a lot of "security guards", without any public awareness and no matter about costs (the flight-costs have been about 140.000 Euro!). A brutal example of deterrement on an European level, because in this plane to Burkina Faso, Togo and Benin have been deported also migrants, who have been brought from Belgium and Switzerland to Hamburg before. And obviously another step to establish the practice of European charter deportations: EU-authorities provide 30 Million Euros now for 2005 and 2006 to "support common EU-deportations on a logistical level". So every day such kind of deportation charters can happen again, but its realisation depends to the collaboration of charter airlines. Aero-Flight (with headquarter in Frankfurt-Oberursel) is obviously a company involved in Charter-deportations, thus it is necessary to get this airline included into further activities of "Stop-deportation-class-campaigns".
Brandenburg-State:
Successful demonstration inside the camp (1st brief report). around 200 people, mainly selforganised refugees, have participated in the protest in brandenburg, firstly against a camp in bahnsdorf, later on in a demonstration in senftenberg in front of the foreign office. the main target, the refugee camp in bahnsdorf, is not a closed camp, but it is a "jungle camp", isolated in the forest, where the asylumseekers -according the german asylum law - are forced to live under inhuman conditions. "european homecare", the company, which is running the camp, tried to make all inmates afraid of the coming demonstration by telling lies about "anti-lager-action-tour". and they decided not to allow more than 30 people to come into the camp-area and to visit the refugees during the demonstration. but a well organised and determined demonstration could (literally) overcome these obstacles:a few private securities, who tried to keep the gates of the camp closed, have not had any chance, when more and more anti-lager-activists pushed forward... and the whole demonstration including the loud-speaker-car entered the area. dozens of policemen came to late and could not do more than to try to prevent that the demonstration arrive the last and biggest building of the camp. but in the same moment, when police try to block the demonstrators, three activists appeared on the roof of the same building and let down a huge banner: no lager - freedom of movement! police and security were surprised, the demonstrators excited, and many inmates of the camp came out and have been more and more interested in the manifestation and further communication. finally also around 30 asylum-seekers from the camp joined the demonsteration out of the camp and to the next city for a protest in front of the foreign office.
[A video (beware: windows media!) of the demonstration in Bahnsstorf is available at the website of Umbruch Bildarchiv]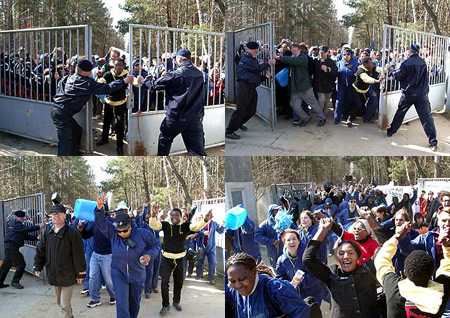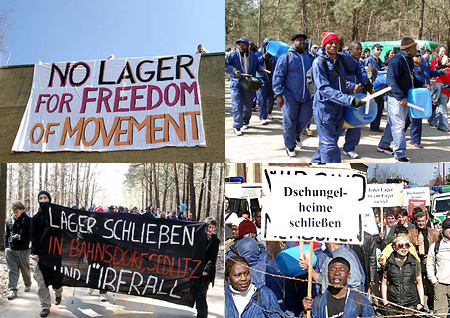 Nürnberg:
70 persons participated in a picket in fromt of the foreigners office in Nürnberg. The picket was held in protest against a massive wave of work interdictions against refugees that have lived in Nürnberg for between 5 and 12 years and who have so far worked with 2nd class work permits. (work permits that allow somone to work if it is 'impossible' to find a german or eu national to do the job)
Göttingen:
In goettingen an information event took place on the 2nd of april on the central market square. Activists distributed information material about the residence-obligation-law (a law forces refugees to stay in a designated place during their asylum procedure) and the practice to supply refugees with vouchers instead of money
Düsseldorf:
About 100 persons participated in a demonstration for the right to stay and against deportations in Dusseldorf. The demonstration took from the central train station to the (deserted) goverenement area in order to protest against the state governements recent rejection to transform the temporary non-removal status of thousands of immigrants into proper residence permits.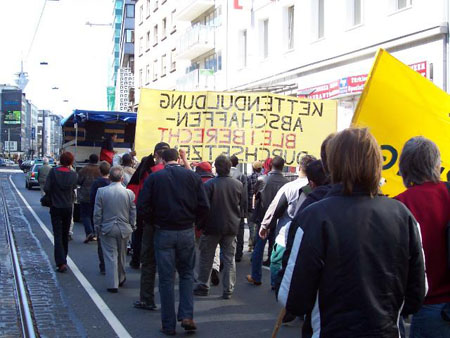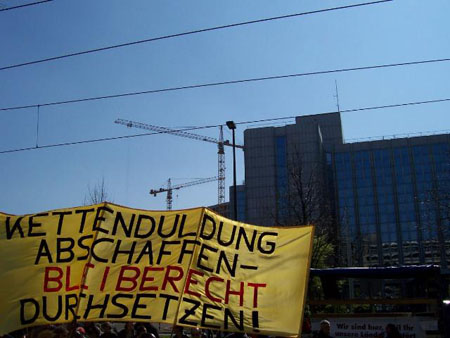 Berlin:
no action took place in berlin but somone distributed posters in parts of the city: