Meanwhile in Greece ...
21.Jan.03 - The situation at the Refugee Center of Thessaloniki (Greece) is hard. Refugees are allowed to stay for a very short period in this center, under an authoritarian administration which tries to terrorize and isolate them from any kind of social life and generally applies all kinds of psychological pressure on people who are already in a lot of frustration.
After staying in this place for three months, refugees have to leave the center and find a way to survive on their own, although they usually don't even speak Greek language adequately. They dont take any kind of financial support and they are supposed to find themselves a work to make a living, while they are waiting for a reply to their application, usually very delayed, and almost always negative.

However, this kind of center looks like a 5-star hotel compared to the detention camps of Evros. A lot of people who are arrested at the borders are now kept in these camps, without having the option to apply for asylum and reach Thessaloniki or any other city.

In 17-19 January 2003, members of the Antiracist Initiative of Thessaloniki attempted to visit the detention camp of Venna, a village near Komotini, in Evros (north east, near the borders with Turkey).
At that time, hundreds of refugees were illegally kept in the specific camp, under conditions worse than those of prisons. People held there are either newcomers who are accused of illegal trespassing and usually do not even have the opportunity to apply for asylum, or people whose asylum application has been rejected and are due to deportation.
It is not even a normal prison with a standard regulation, people are not sent there after an open trial. People are kept in this warehouse, like no name products which have a defect and have been withdrawn from market. The place was guarded by border-police. It was not allowed neither for doctors and lawyers, nor for members of antiracist initiative to enter the camp and offer legal and medical assistance or any other humanitarian help.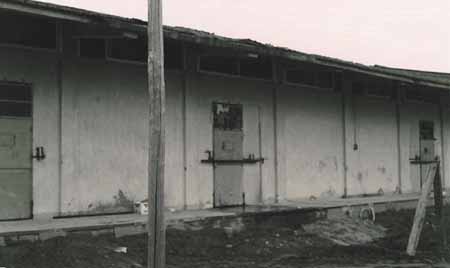 more information: more images